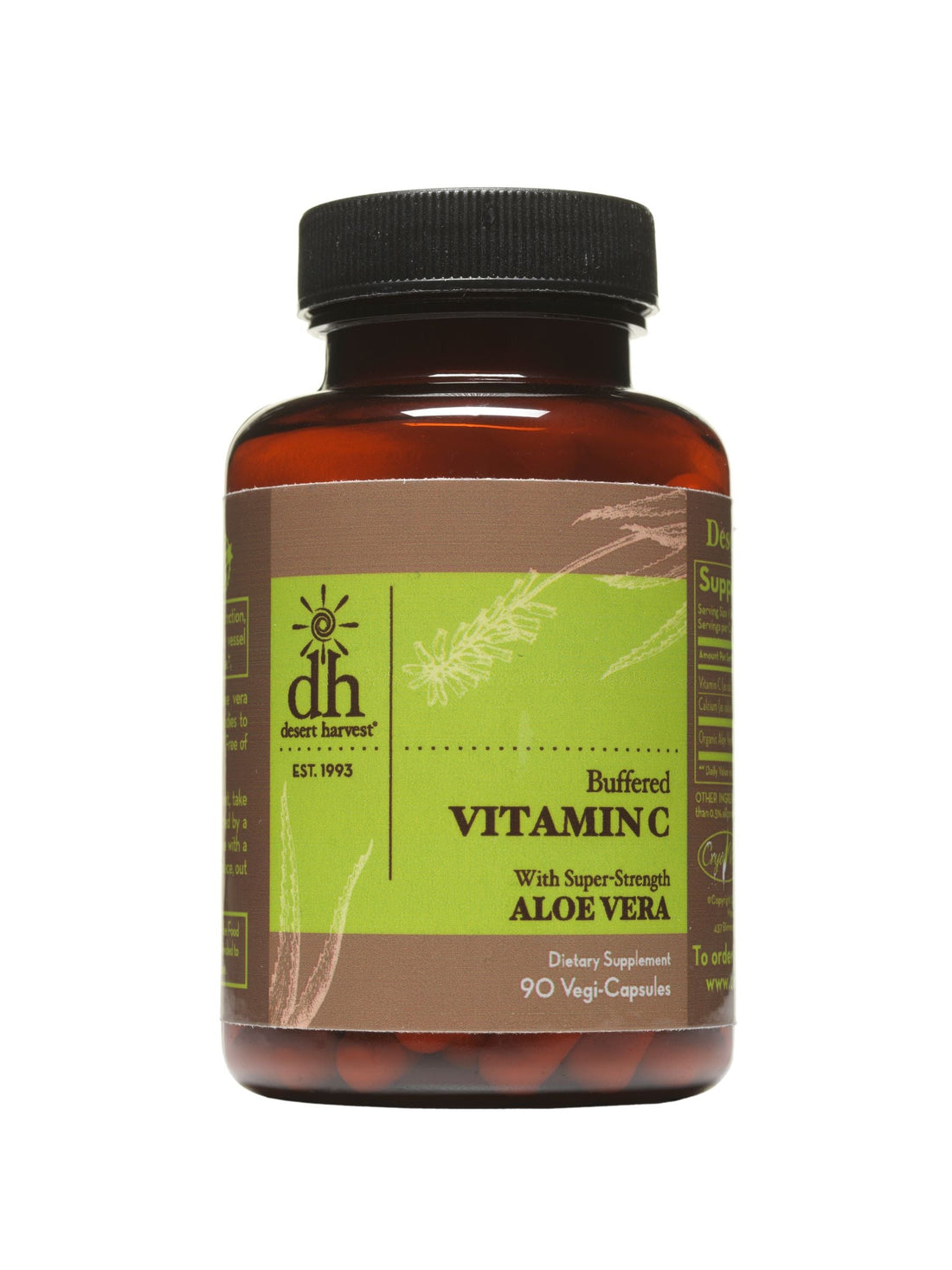 Vitamin C supports immune function, nerves, collagen production, blood vessel integrity and free-radical defense. Each capsule includes 400 mg Vitamin C buffered with 40 mg of calcium ascorbate and Super-Strength Aloe Vera for better nutrient absorption. Desert Harvest Buffered Vitamin C is Interstitial Cystitis (IC) and Bladder Pain Syndrome (BPS) friendly (like ester-C); easy on the stomach, urinary tract and bladder.
Vitamin C is a powerful antioxidant that may help:
Neutralize free radicals and facilitates the body's ability to absorb iron from foods and supplements
Immune function by increasing production of white blood cells, antibody levels and interferon, and assists in the functioning of specific immune cells
Reduce the frequency of the common cold, but it has no apparent effect on the duration or severity of the common cold
Reduce production of inflammatory compounds in the gut, may help reduce the levels of inflammation in various forms of colitis.
May positively impact eye health including cataracts and macular degeneration
All Desert Harvest supplements are vegan, gluten-free, IC/BPS friendly, Kosher certified and contain no fillers or artificial ingredients. Desert Harvest follows strict Good Manufacturing Practices and are cGMP compliant. 
*These statements have not been evaluated by the Food and Drug Administration. This product is not intended to diagnose, treat, cure, or prevent any disease.
Each serving (1 capsule) contains 400 mg of Vitamin C buffered with 40 mg of calcium ascorbate, 75 mg of organic aloe vera powder, and less than 0.5% silicon dioxide (a naturally occurring earth mineral)
As a dietary supplement, take one (1) capsule twice a day or as directed by a qualified healthcare provider.
I am so glad that I purchased
I needed to use Vitamin C after a procedure and had no bladder issues at all with the buffered Vitamin C. I took this along with Desert Harvest's Calcium Glycerophosphate.
Flexible Schedule
Manage your shipment dates and frequency easily.
Renewal Notifications
We always send you an email notification 3 days before your order renews.
Easy Cancellation
No penalties ever for cancellations. You can cancel easily through your account or email us directly.