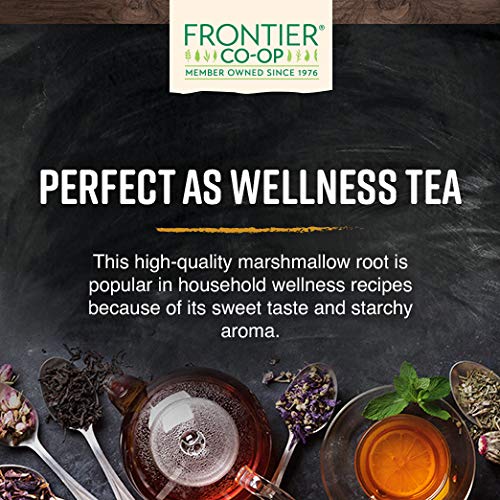 Loose Marshmallow Root / Althaea officinalis L.
Organic Cut & Sifted - 1 lb, 1/2 lb or 108 grams (3.81 oz). 
Herbal Tea and Caffeine-Free.
PERFECT AS WELLNESS TEA - This high-quality marshmallow root is popular in household wellness recipes because of its sweet taste and starchy aroma. It is especially beneficial for the bladder and can help with symptoms of Interstitial Cystitis. Catherine Simone discusses this beneficial tea in her incredible book, Along The Healing Path.
Marshmallow Root tea is also known to help with: dry coughs, sore throats, blood sugar management, ulcers, constipation, asthma, indigestion, IBS, leaky gut, ulcerative colitis, Crohn's disease, heartburn. 
ORGANIC FROM BULGARIA - This Organic Marshmallow Root is harvested in Bulgaria. It is derived from the root of the marshmallow plant. There are no artificial additives or chemicals used at any step of the growing process. This product is organic, kosher and non-irradiated.
Note: Irradiated foods are foods that have been exposed to radiation to kill harmful bacteria, insects, or parasites, or to delay spoilage, sprouting, or ripening.
Do not refrigerate because it can cause condensation, which can cause it to mold. Store sealed in a cool, dry place.
*These statements have not been evaluated by the Food and Drug Administration. This product is not intended to diagnose, treat, cure, or prevent any disease.
Organic Marshmallow Root - Cut & Sifted.
HOT - Add 1 tsp of herb to 8 oz water in a pot. Cover and simmer 15-30 minutes, strain and serve immediately.

COLD INFUSION - We recommend using Marshmallow Root Tea for cold infusion as boiling water can eliminate the natural mucilage this root produces. 

Example, put 1 Tablespoon (Tbsp) marshmallow root in a pint jar, add cool water to the top and seal. Keep at room temperature, do not refrigerate yet. After steeping approximately 8 hours, strain a cup and enjoy. Store the rest of the steeped tea in the refrigerator. 

Should be taken with at least 250 ml (8 oz) of liquid. Other drugs should be taken 1 hour prior to consumption.


D-Mannose
I'm so glad I found west coast mint d-mannose because it has been a life saver! Worked immediately unlike antibiotics. Thank you for helping me on my healing journey.
Flexible Schedule
Manage your shipment dates and frequency easily.
Renewal Notifications
We always send you an email notification 3 days before your order renews.
Easy Cancellation
No penalties ever for cancellations. You can cancel easily through your account or email us directly.