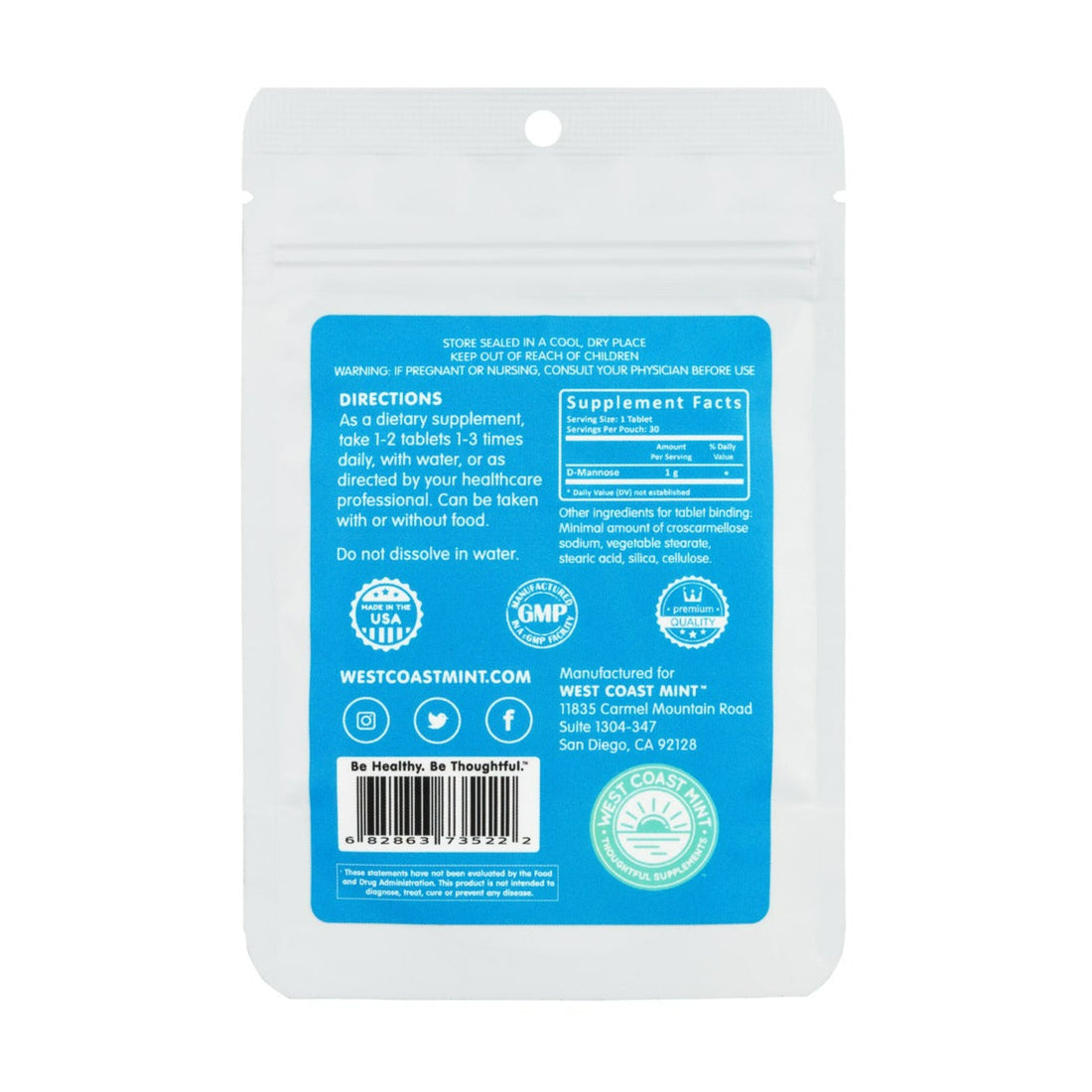 D-Mannose Tablets by West Coast Mint (WCM), is a urinary support supplement that may be helpful for recurrent UTI.* 

1 Full Gram of D-Mannose / Tablet.
Not Mint Flavored. 
D-Mannose is a naturally occurring sugar, found in some plants and fruits. Research has shown that D-Mannose may provide urinary tract support by inhibiting the attachment of E. coli bacteria to the urinary tract.*
D-Mannose is also available in powder form.
How D-Mannose is thought to work:

Studies outside the body (in vitro) have demonstrated that E. coli may bind to D-Mannose molecules, rather than binding to the bladder wall. The free-floating molecules may then be flushed from the urinary tract during urination. *
Proudly Packaged, Manufactured AND Sourced in the USA!

WCM brand is proud to offer one of the only US-Sourced D-Mannose Supplements on the market for Urinary Tract Support! 
Ingredients: 1 full gram of Pure Non-GMO D-Mannose per Tablet.
Other ingredients for tablet binding: minimal amount of croscarmellose sodium, vegetable stearate, stearic acid, silica, cellulose
Ingredients sourced: USA
Manufactured in: USA 
D-Mannose Tablet Features:

100% Pure, Non-GMO D-Mannose Powder

Vegan and naturally free from gluten, soy, dairy and yeast.
Quality | Efficacy | Honesty™ - The WCM Difference
There is a difference between just "Made in the USA" and actually "Sourced in the USA". Many companies indicate "Made in the USA" even though the raw ingredients are sourced from China and we find this to be so misleading. We believe consumers have the right to know exactly what they are consuming and the products' country of origin. 
*These statements have not been evaluated by the FDA. These products are not intended to diagnose, treat, cure or prevent any diseases.
Non-GMO D-Mannose.

Other ingredients for tablet binding: minimal amount of croscarmellose sodium, vegetable stearate, stearic acid, silica, cellulose.

Non-GMO & Vegan.
Naturally free of: gluten, dairy, soy and yeast.
As a dietary supplement, take 1-2 tablets 1 to 3 times daily, and/or around triggering events such as intimacy, or as directed by your healthcare professional.

Take with water, with or without meals.

Do not dissolve in water.
get products
the cleanest and best most pure products on the market
D-Mannose Tablets
I've been taking these for about a year now to avoid infections. Great product!
UTI killer
Ever since I've started taking these tablets, I've been UTI free.
D-Mannose from your company was recommended to me from my doctor and it works very well for me when I get a UTI. Thank you for a superb product.
This D-Mannose is excellent!
This D-Mannose has helped keep away my UTI's since I started it!
Flexible Schedule
Manage your shipment dates and frequency easily.
Renewal Notifications
We always send you an email notification 3 days before your order renews.
Easy Cancellation
No penalties ever for cancellations. You can cancel easily through your account or email us directly.