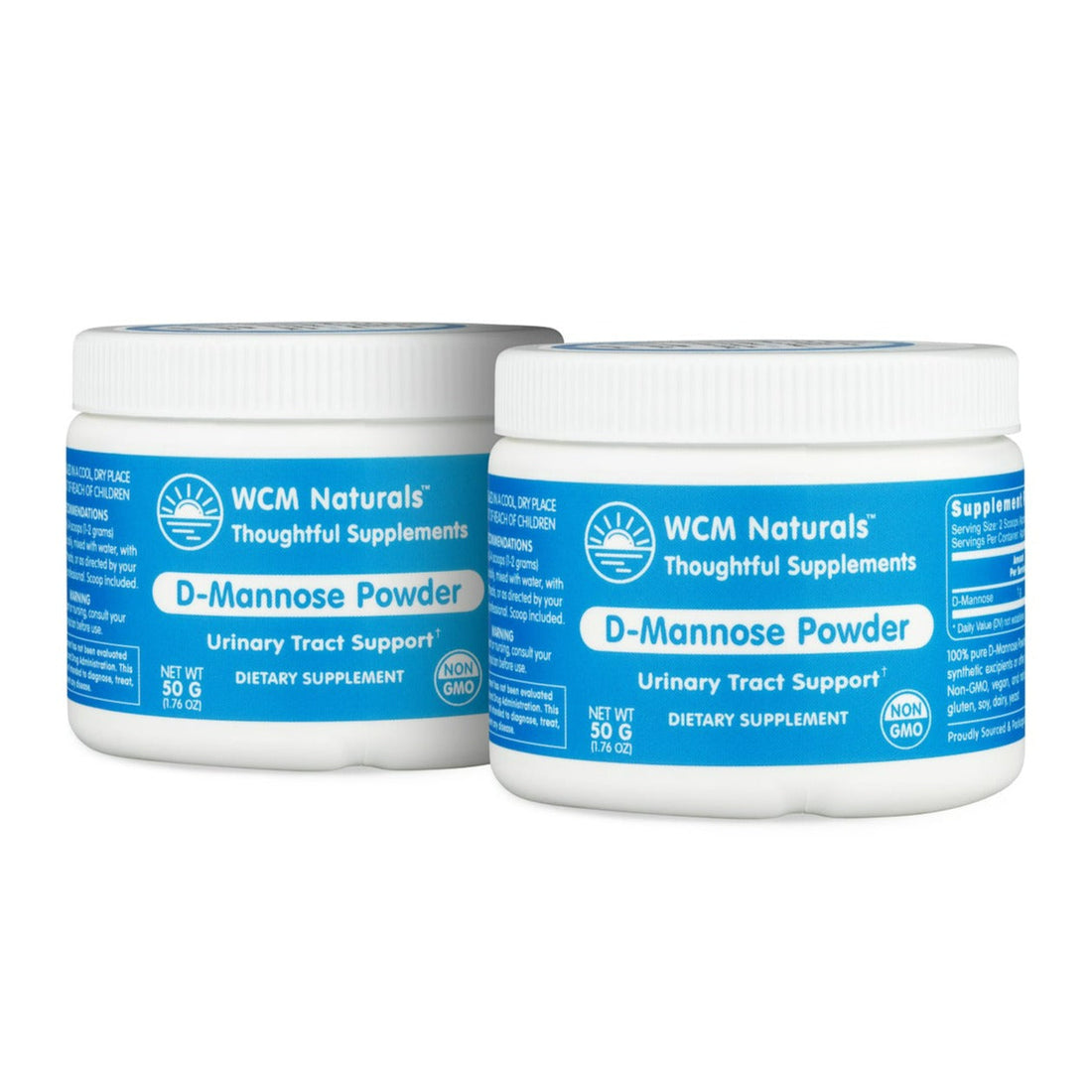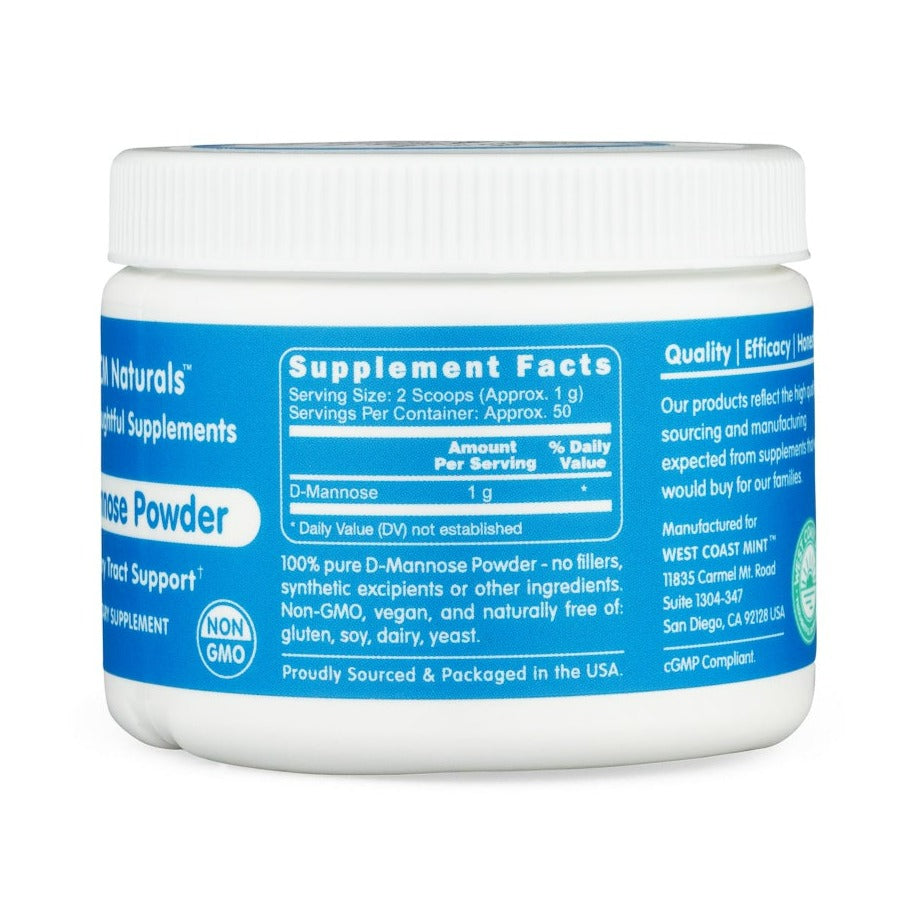 D-Mannose Powder by West Coast Mint (WCM), is a urinary support supplement that may be helpful for recurrent UTI.*

Not Mint Flavored. 

D-Mannose is a naturally occurring sugar, found in some plants and fruits. Research has shown that D-Mannose may provide urinary tract support by inhibiting the attachment of E. coli bacteria to the urinary tract.*
Please note: 100 g option is shipped as two 50 g jars. 
D-Mannose is also available in tablet form.

How D-Mannose is thought to work:
Studies outside the body (in vitro) have demonstrated that E. coli may bind to D-Mannose molecules, rather than binding to the bladder wall. The free-floating molecules may then be flushed from the urinary tract during urination.* 
Quality | Efficacy | Honesty™ - The WCM Difference
Proudly Made in California

Ingredients: 100% Pure, Non-GMO D-Mannose Powder.
D-Mannose Powder Features: Vegan and naturally free from gluten, soy, dairy and yeast.
*These statements have not been evaluated by the Food and Drug Administration. This product is not intended to diagnose, treat, cure, or prevent any disease.
100% Pure, Non-GMO D-Mannose Powder.

Non-GMO & Vegan.
Naturally free of: gluten, dairy, soy and yeast.
Take 2-4 heaping scoops (1-2 grams) 1 to 3 times daily, mixed with water, with or without meals or as directed by your healthcare provider.

If pregnant or nursing, consult your physician before use.
Please note that the 100g option is shipped as two 50g jars.
Helping
This is helping with my CI pain
So far so good
Seems to possibly help. Like the higher quality ingredients.
Love it
Customer service is great and the product is working wonderfully
Love the purity of this brand and the powder form. I continue to take as preventative medicine.
For 9-months I had a burning bladder. Based on past experience, this was always an indication of a bladder infection. I went to the doctor, but was told I didn't have a UTI. I assumed I had IC and would have to live with the condition. At home urinalysis test strips showed no bacteria however leukocytes (white blood cells) were elevated. D-Mannose was the only product that kept me pain free, taking 2 scoops in the morning and 2 at night. It just so happened that my cat bit me and I had 2 puncture wounds on my hand that showed signs of infection. My doctor prescribed Amoxicillin and Clavulanate Potassium (Amoc-Clav 875-125 MCG) for the cat bite…and this medication also cured my burning bladder. I must have had had a persistent low level bladder infection. I continue to take 2-scoops of D-Mannose daily as preventative and a prebiotic. I prefer the powder form and purity of this brand.
Mine have caked up when about 1 third finished the jar. Let me know if thats okay. Thanks!
Hi Sherrel, Thank you very much for your order. Since there are no fillers, preservatives or emulsifiers it is completely normal for the pure powder to cake or clump a little bit when exposed to air. Store in a cool, dry place and clumps can be broken up before scooping. It does not affect the quality or efficacy at all. Please reach out with any additional questions. ~ WCM Team
Flexible Schedule
Manage your shipment dates and frequency easily.
Renewal Notifications
We always send you an email notification 3 days before your order renews.
Easy Cancellation
No penalties ever for cancellations. You can cancel easily through your account or email us directly.