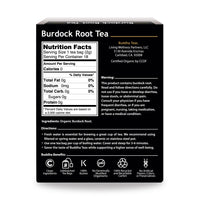 Organic Burdock Root Herbal Tea - Buddha Teas
18 Bleach-Free Biodegradable Tea Bags
Herbal Tea and Caffeine-Free
Burdock Root Tea boasts a unique and deeply nurturing profile, with much to offer. First cultivated in the middle ages, this plant is remarkably respected and valued for its many benefits.
This all-encompassing, immune-boosting power herb boasts the reputation as a vital dietary inclusion for those seeking optimal well-being. As well, because it contains inulin, a pre-biotic, burdock root is known to detoxify the body and aid digestion.
As a plant, burdock is classified as a biennial and is scientifically known as Arctium. Flowering from July through October, during August the rosettes of burdock play an essential role for bees, providing nectar and pollen while the bees wait for goldenrod to bloom. Quite common as a food in Asia, burdock root is especially enjoyed in Japanese cuisine, where it is known as "gobo."
Burdock Root Extract contains Vitamins B complex and E. In addition, it boasts trace minerals of potassium, phosphorous, chromium, cobalt, iron, magnesium, silicon, zinc and sodium.
Health Benefits Include:
Purifies the blood.
Excellent anti-inflammatory actions.
Supports the bladder, kidneys and urinary tract.
Can help stimulate detoxification and effective lymphatic drainage. 
Helps to stimulate the circulation of blood up to the skin's surface resulting in improved skin health.
Natural diuretic: can help eliminate excess fluids and sodium from the system, This can help improve your overall health, the health of your kidneys and conditions like gout.
Can help ease a sore throat and even help treat painful tonsillitis. 
May be effective against certain types of cancer including breast, pancreatic and colon cancer cells.
Can cleanse the blood and also protect and cleanse the spleen. Because it improves circulation, reduces inflammation and purifies the blood, burdock root tea can have a very positive effect on the spleen. 
Safety Precautions
Avoid burdock root tea if you are pregnant as it can damage the fetus.
People with allergies to ragweed and other members of the daisy family should avoid drinking burdock root tea.
Because it is a natural diuretic, people suffering dehydration should not consume the tea.
*These statements have not been evaluated by the FDA. These products are not intended to diagnose, treat, cure or prevent any diseases.
Use one tea bag per cup of boiling water. Cover and let steep for 3-6 minutes.
Flexible Schedule
Manage your shipment dates and frequency easily.
Renewal Notifications
We always send you an email notification 3 days before your order renews.
Easy Cancellation
No penalties ever for cancellations. You can cancel easily through your account or email us directly.