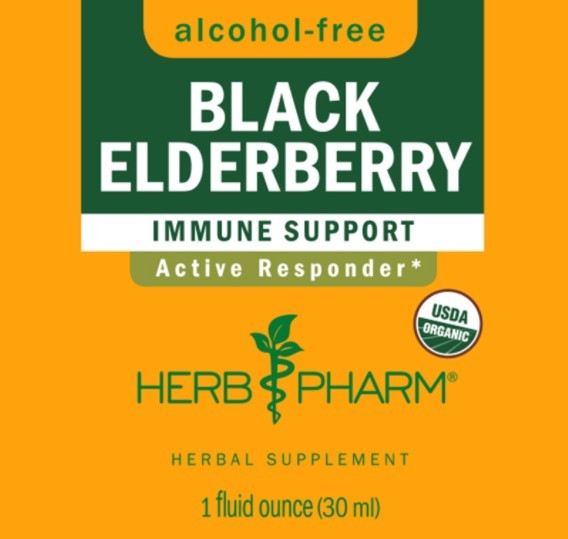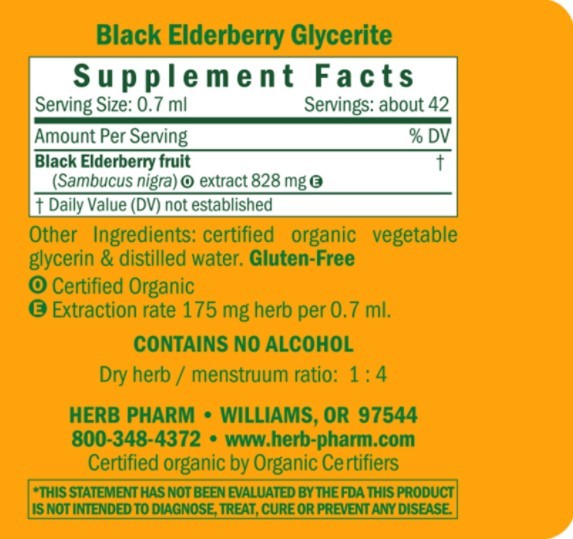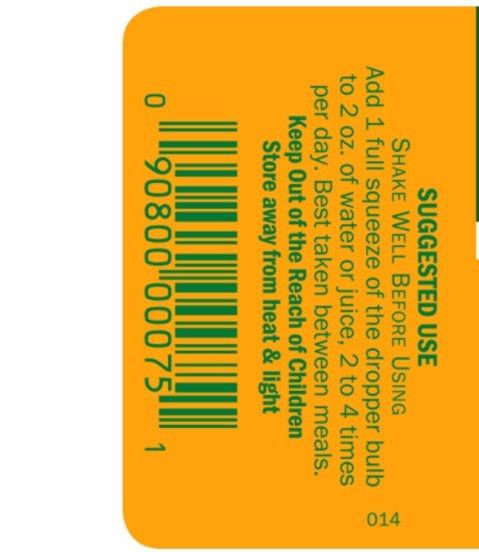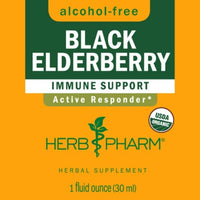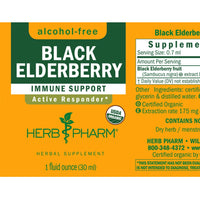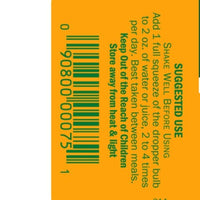 Herb-Pharm - Black Elderberry Tincture, Alcohol Free - 1 fl oz
Sambucus nigra
Provides deep support for an active immune response.
PRODUCT FEATURES
Herb-Pharm prepares Black Elderberry Glycerite from the ripe berries of Certified Organic Sambucus nigra trees. The berries are hand-harvested only when ripe to assure optimal extraction of Black Elderberry's bioactive compounds.
All Herb-Pharm Glycerites are made using 100% non-palm glycerin to avoid contributing to global rainforest deforestation. Instead of palm, they use Certified Organic corn glycerin. They assure herb identity via macroscopic and organoleptic analysis, then confirm it through methods such as HPTLC fingerprinting specific to each herb.
*These statements have not been evaluated by the Food and Drug Administration. This product is not intended to diagnose, treat, cure, or prevent any disease.
INGREDIENTS
Organic Black Elderberry fruit (Sambucus nigra) extract 825 mg
Country of origin: Bulgaria, Poland, Albania

Certified Organic

Extraction rate 175 mg herb per 0.7 ml.
Shake Well Before Using
Add 1 full squeeze of the dropper bulb to 2 oz. of water or juice, 2 to 4 times per day. Best taken between meals.

Strength: Herb Menstruum Ratio 1:4

Caution: Keep Out of the Reach of Children

Store away from heat & light
Flexible Schedule
Manage your shipment dates and frequency easily.
Renewal Notifications
We always send you an email notification 3 days before your order renews.
Easy Cancellation
No penalties ever for cancellations. You can cancel easily through your account or email us directly.