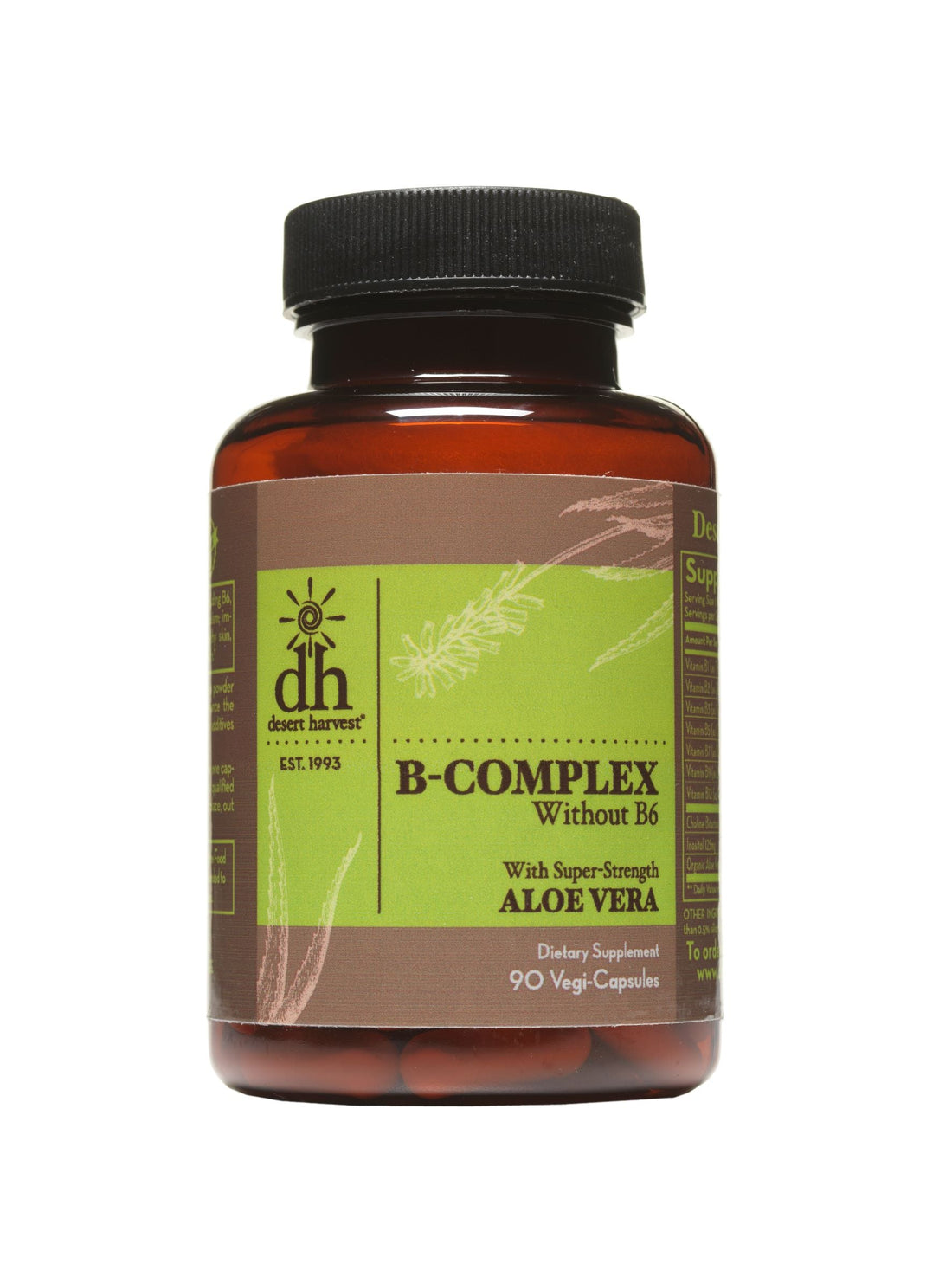 Desert Harvest B-Complex Dietary Supplement without B6 is ideal for those sensitive to B6, especially with Interstitial Cystitis/Bladder Pain Syndrome (IC/BPS). This unique combination of B vitamins supports cell growth, division, and metabolism; immune and nervous system function; healthy skin, hair, muscle tone and pancreatic health.
All Desert Harvest supplements are gluten-free, IC/BPS friendly, and contain no fillers or artificial ingredients. 
*These statements have not been evaluated by the Food and Drug Administration. This product is not intended to diagnose, treat, cure, or prevent any disease
Each serving (1 capsule) contains:
50 mg of Vitamin B1 (as Thiamine Mononitrate)
50 mg of Vitamin B2 (as Riboflavin)
50 mg of Vitamin B3 (as Niacinamide)
50 mg of Vitamin B5 (as Calcium Pantothenate)
50 mcg of Vitamin B7 (as Biotin)
50 mcg of Vitamin B9 (as L-Methylfolate) - easy to digest, unlike folic acid
50 mcg of Vitamin B12 (as Methylcobalamin) - naturally occurring rather than Cyanocobalamin, commonly used and chemically synthesized
50 mg of Choline (as Choline Bitartrate)
125 mg of Inositol
50 mg of Desert Harvest organic, freeze-dried Aloe Vera powder, which has been shown in studies to enhance the absorption of nutrients
Other Ingredients: Tapioca starch capsules and less than 0.5% silicon dioxide.
As a dietary supplement, take one capsule per day with meals or as directed by a qualified healthcare professional.
B-Complex | Without B6 - 90 Capsules
Happy to have a B complex without B6!
I need a B complex without B6, and happened upon this one. I recently re-ordered. I've been very happy with this product and the service provided by this company.
Meets my special need
Blood tst can back high for B-6. The daily vitamin from West Coast Mind has all the good stuff without the B-6. So far-so good.
Wish it didn't have B-9
I appreciate this supplement so much. It's hard to find a quality B-complex. However, the more I read about B-9, the more I don't want to supplement with it. Wish there was an option to get a B-complex without it. Otherwise, I'm pleased with this product.
B Complex without B6
great! fast shipping and fair price
Flexible Schedule
Manage your shipment dates and frequency easily.
Renewal Notifications
We always send you an email notification 3 days before your order renews.
Easy Cancellation
No penalties ever for cancellations. You can cancel easily through your account or email us directly.