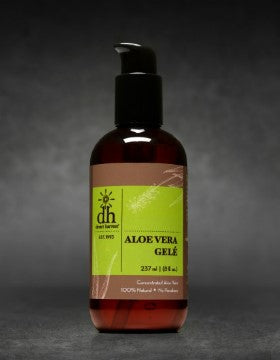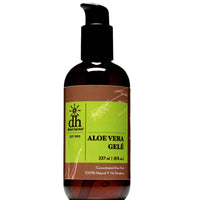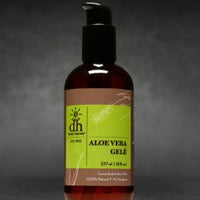 New Pump for Better Dispensing.

Made with the highest-grade, organic, cold-processed Aloe Vera gel, Desert Harvest Aloe Vera Gelé is formulated to moisturize, soothe, and reduce the appearance of redness. Aloe Vera contains 75 active vitamins, enzymes, minerals, sugars, salicylic acids, and amino acids. With its abundance of antioxidants, including beta carotene, vitamin C, and E plus the mineral zinc, Aloe Vera Gelé penetrates deep into the dermis to help improve the appearance of the skin's natural firmness by stimulating collagen synthesis and skin regeneration, keeping the skin hydrated, and contains antibacterial, anti-fungal, antimicrobial, and antiviral compounds. 
Aloe Vera can be effective for dryness and irritation. Gelé can be used on all sensitive tissue as a soothing personal moisturizer. 
Aloe moisturizes without leaving the skin greasy and does not clog oily skin. Use as a daily moisturizer and under make-up, or as an aftershave for both men and women. Salicylic acid occurs naturally in Aloe Vera gel which has the ability to unclog pores. 
Refrigerate for added cooling and to reduce swelling.
INGREDIENTS: Organic Aloe Vera, Amigel (Natural Thickener), Citric Acid (Natural pH Controller), Natapres Natural Preservative (Leuconostic/Radish Root Ferment Filtrate (Natural Antimicrobial), Lonicera Japonica (Honeysuckle) Extract, Populus Tremuloides (Aspen) Bark Extract, Gluconolactone).



100% natural ingredients, organic Aloe Vera, no parabens, no petrochemicals, no fillers, no artificial colors, fragrance, or preservatives.


DIRECTIONS: Use a pea-sized amount and rub it into the skin wherever it is irritated. A good medium for an ultrasound. Does not need to be refrigerated. Reapply to the skin as often as desired.


Life Changing
I recommend this product often to patients as a pharmacist. The two words I usually hear back are ' life changing'. I love recommending this fantastic product for UTI prevention!
Love the Aloe Vera Gele! It works for me! 🥰
Aloe gel
I am hoping this gel will hel my inflammation still waiting for results
Flexible Schedule
Manage your shipment dates and frequency easily.
Renewal Notifications
We always send you an email notification 3 days before your order renews.
Easy Cancellation
No penalties ever for cancellations. You can cancel easily through your account or email us directly.