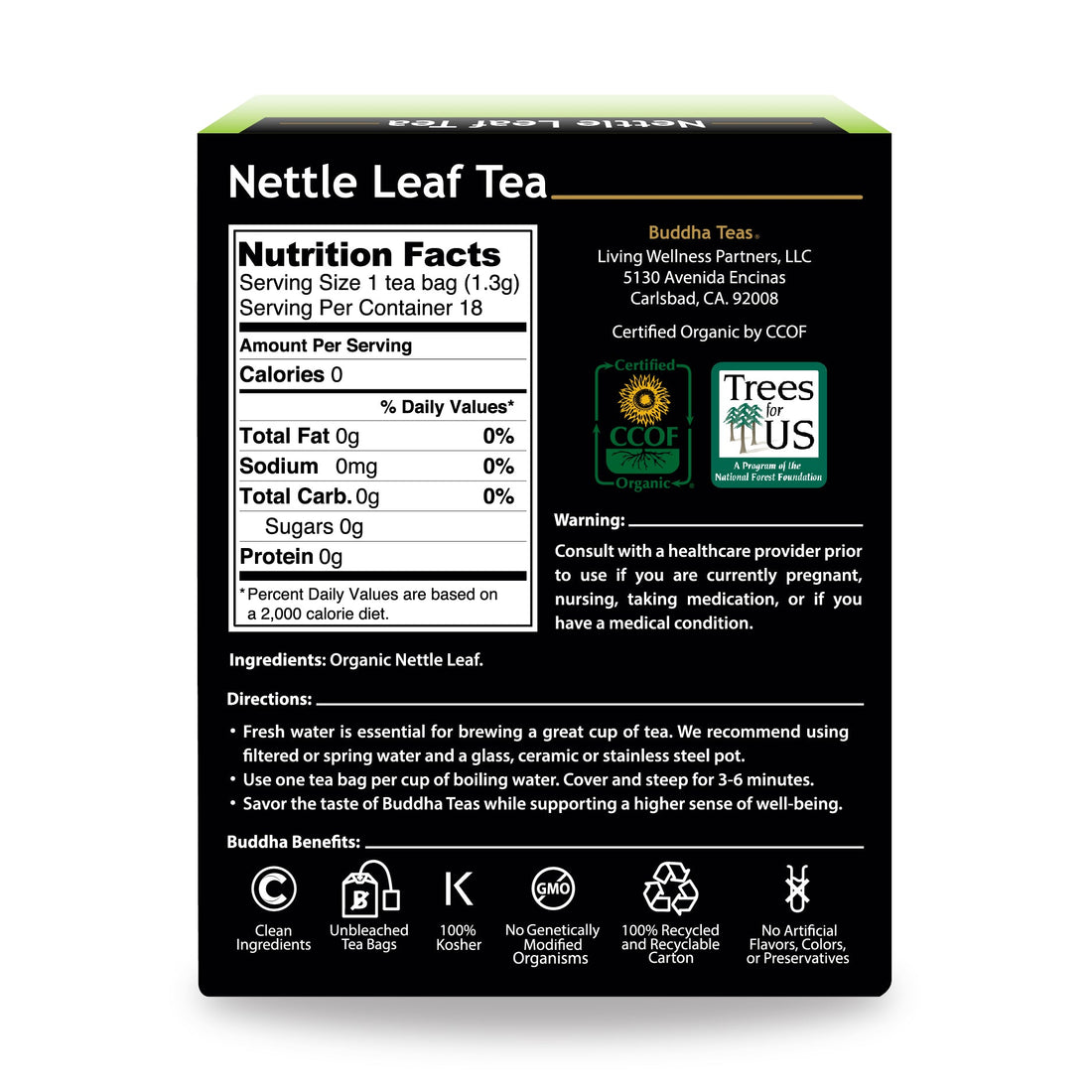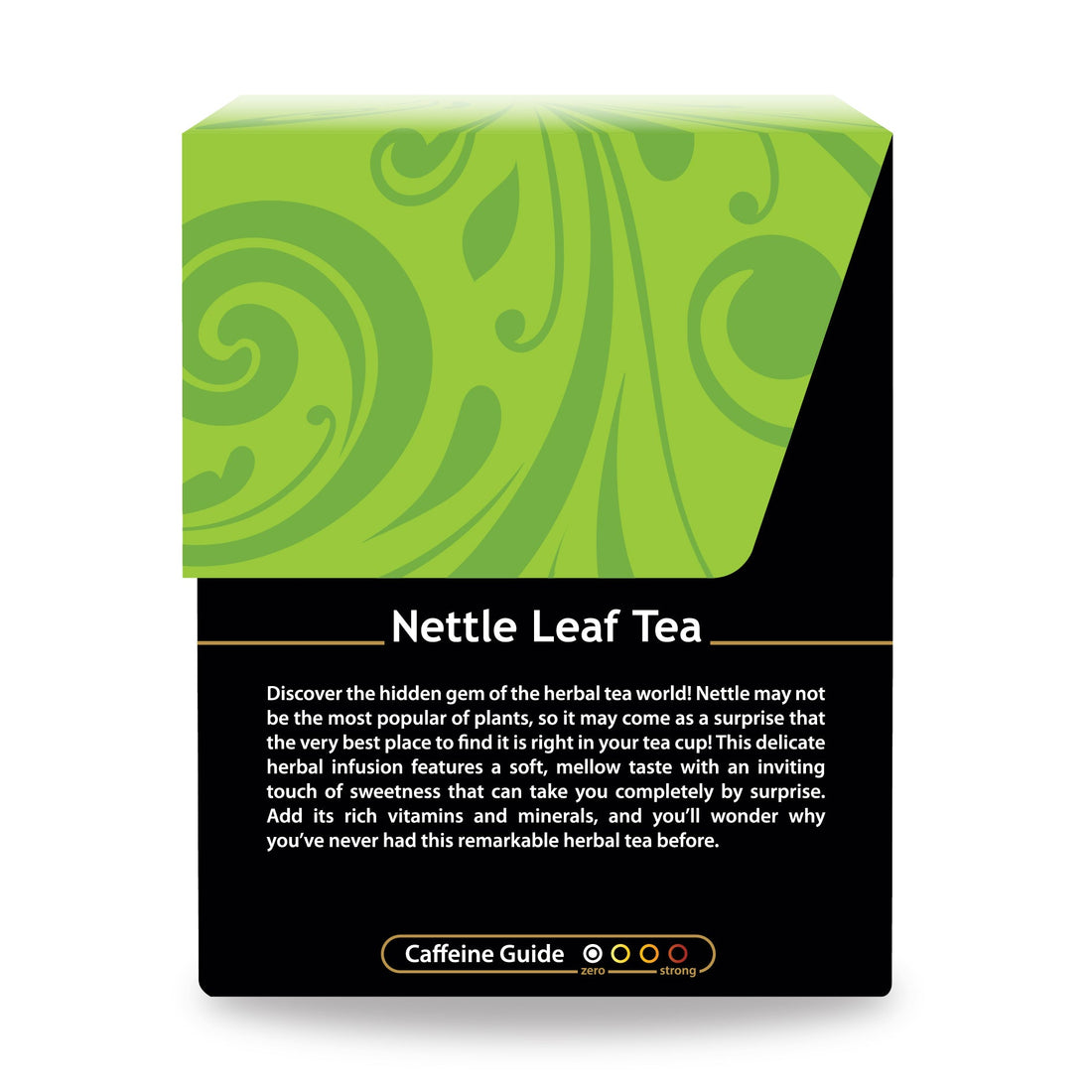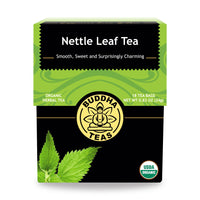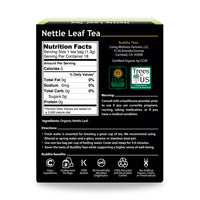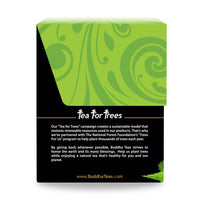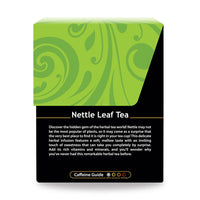 Nettle Leaf Tea - Organic - Buddha Teas - 18 Bleach Free Tea Bags
100% Pure Organic Nettle Leaf (Stinging Nettle).
Nutrient dense, smooth-tasting, single herb tea.
Herbal Tea and Caffeine-Free
BENEFITS OF NETTLE LEAF
Detoxifying the Body: Contains nutrients that help to kill toxins within the body. It is a diuretic since it neutralizes toxins and ensures they are rapidly eliminated from the body.
Enhances gut absorption by ensuring that harmful toxins don't accumulate. 
Stinging nettle also helps to flush out excess toxins within the kidneys. It does this by activating the lymphatic system. 
Bladder Support: Can help support UTI recovery by helping to flush out toxins in the body. 
Improves Circulation: Organic stinging nettle leaf tea is rich in vitamin C and iron. These two nutrients help to stimulate the production of red blood cells in the body.
Improves Bone Health: Boron is an essential mineral found in Nettle Leaf. Boron helps your bones to maintain their calcium content.
Prostate Support: stinging nettle has powerful agents that may help to prevent the growth of men's prostates. Please note however, stinging nettle treatment cannot reverse the growth of prostates once testosterone stimulation has ensued. It can only help with growth prevention before hormone activation has occurred.
Menstruation & Menopause: Contains active components that ease symptoms of pre-menstruation that include bloating and cramping. The nettle herb also contains astringent properties, which helps to reduce blood flow in menstruating women.
Menopausal women can also benefit from this tea. The herb acts as a restorative, helping to make the transition into menopause as smooth as possible. It also prevents the dramatic hormonal shift characterized by this transition.
WARNING: Stinging nettle should not be taken by pregnant women, people with low blood pressure and individuals with low blood sugar. Don't take this herb if you are taking blood thinning drugs or lithium drugs. Please always check with your physician for any possible interactions. 
*These statements have not been evaluated by the FDA. These products are not intended to diagnose, treat, cure or prevent any diseases.
Use one tea bag pre cup of boiling water. Let steep for 3-6 minutes.
Flexible Schedule
Manage your shipment dates and frequency easily.
Renewal Notifications
We always send you an email notification 3 days before your order renews.
Easy Cancellation
No penalties ever for cancellations. You can cancel easily through your account or email us directly.