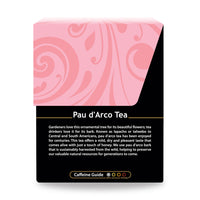 Wild Crafted Pau d'Arco Herbal Tea - Buddha Teas
18 Bleach-Free Biodegradable Tea Bags
Pau d'Arco Tea, a powerful bark tea, whose ancient South American origins have spread far and wide, is enjoyed today across the globe for its smooth, unique flavor, and remarkable benefits.
Also known as Lapacho, or Taheebo, Pau d'Arco is a remarkable herb processed from the bark of a large, flowering tree native to the Amazon Rainforest. Though its medicinal benefits were first sought by rainforest tribes thousands of years ago, today's practitioners incorporate Pau d'Arco to help heal a variety of physical ailments.
Health Benefits 

Reduces Pain: has the power to natually reduce pain. 
Fights Candida: helps body fight candida due to its antioxidant effects.
Reduces Inflammation: increases antioxidant proteins that protect against oxidative damage triggerd by injury and inflammation.
Heals Ulcers: Pau d'Arco can potentially accelerate the healing of ulcers by increasing mucus content and cell proliferation. 
Provides Antiviral & Antifungal Properties: beta-lapochone present in Pau d'Arco inhibits enzymes in virus cells, which directly affects the synthesis of DNA & RNA, so that the virus can not replicate itself or infect other cells.
Fights Cancer: beta-lapocone is a potential compound to be added to cancer treatment. 
Detoxifies The Body: works as a detoxifer. 
Source: https://draxe.com/nutrition/pau-darco/
What Does Pau d'Arco Taste Like?
This widely consumed, earthy tea boasts an incredibly smooth, somewhat sweet flavor. You may notice a bit of residue at the bottom of your cup, but this is normal, and only serves to strengthen the taste and benefits. If desired, you can add a slice of lemon or lime to enhance the flavor, and offer added nutrients.
Buddha Teas Pau d'Arco Tea needs a good boil and a somewhat long steep, about 4-8 minutes. Enjoy hot or cold, in order to fortify and cleanse your body day and night.
Flexible Schedule
Manage your shipment dates and frequency easily.
Renewal Notifications
We always send you an email notification 3 days before your order renews.
Easy Cancellation
No penalties ever for cancellations. You can cancel easily through your account or email us directly.