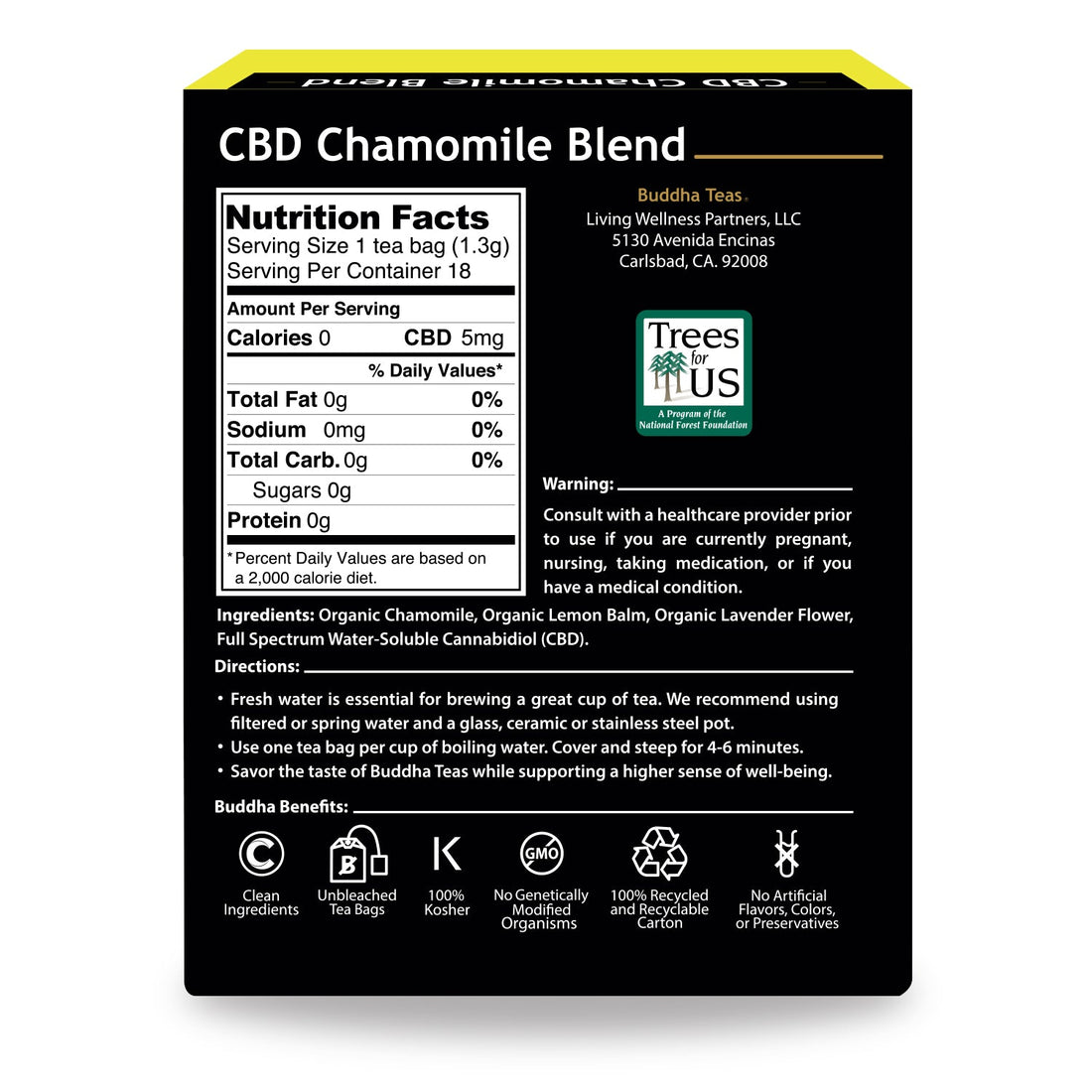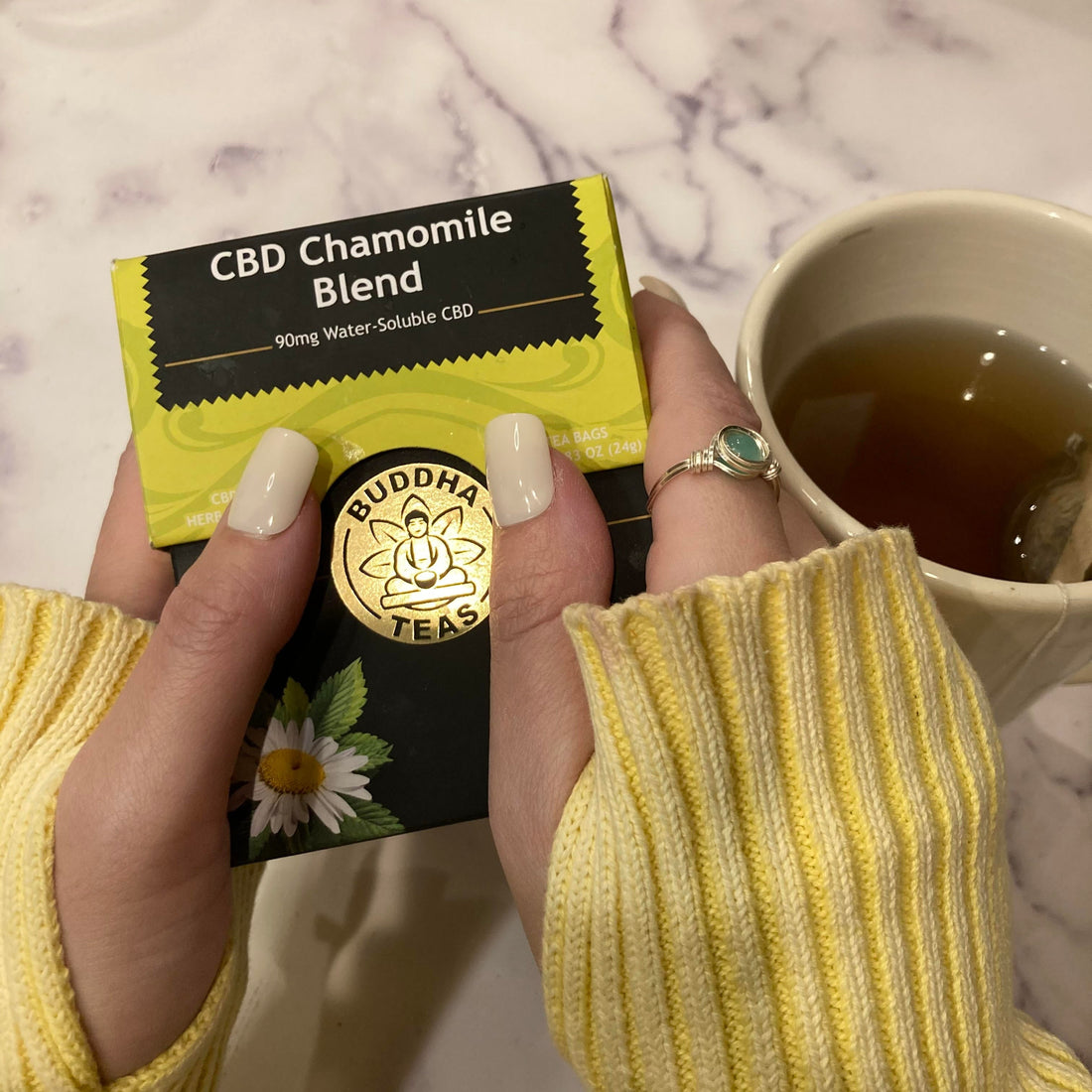 Organic CBD Chamomile Blend Tea
5 mg Pure Water-Soluble CBD / Tea Bag (No THC)
Herbal Tea & Caffeine-Free. 
Chamomile has long been known for its ability to create a sense of calm and relaxation. Buddha Teas paired this tranquility inducing herb with organic lemon balm and lavender and our organic, pesticide free, water soluble CBD for the most calming experience you can get from a tea. We dare you to have a noisy mind while drinking Buddha Teas CBD Chamomile Blend.
The harmonious blend of their CBD Chamomile Tea, created to include organic lemon balm & lavender, is truly divine. Lemon balm's increasing popularity is understandable once you realize its versatility and widespread use in everything from bee cultivation, to aromatherapy, to foods and beverages. Lavender also seems to be everywhere these days. While it can be a tad overpowering if used excessively, they include just the right amount which is approximately 10% of their thoughtful blend, which provides the absolute perfect pinch to accent, not dominate. Each individual component brings its own unique contribution, but together this unique blend provides a compelling reminder of the power of teamwork. Crafted so that no single herb or flower overpowers another, and fortified with their extremely effective pesticide-free, water-soluble CBD, this delightful cup of calm will fast become the tea you seek throughout the day, but especially when you're seeking a bit of relaxation and distance from life's stressors.
Chamomile
Chamomile is best known as a relaxant, digestive aid, and all-around daily delight. Many have found relief using chamomile to help combat a lousy mood, some allergies, anxiety, tummy troubles, inflammation, and even sleep issues.
Lemon Balm / Melissa Herb (Not from Lemon Tree)
Reputable studies have confirmed lemon balm's efficacy as a relaxant and antiviral.
Lavender
Highly recognized and popularized by images of lavender fields of Provence, this distinct herb is reputed to bring deep calm to body, mind, and spirit. 
Flavor Profile of CBD Chamomile Blend
Buddha Teas carefully blends the chamomile, lemon balm, lavender, and CBD so you get only the finest and most appealing notes from each ingredient. This blend stands out particularly because of its light, floral notes, and its understated fruit tones. Super light and airy, you'll find zero bitterness in your cup of tea. Try adding some Buddha Teas Clover honey for just the right touch of sweetness.
Water-Soluble CBD vs. Oil Based CBD
When choosing a tea to drink that includes CBD, Buddha Teas have taken chemistry into consideration. Naturally, you don't want the exquisite experience of enjoying a cup of Buddha Teas turned into a science project, but here's the deal: not all CBD-infused teas are the same. CBD oil-based teas can't extract in hot water, so they found another solution by using nanosized particles of water-soluble CBD. Their innovative process ensures that the CBD in their tea bags ends up in your tea. With their water-soluble, bioavailable CBD you can feel confident that the CBD extracts into the hot tea, which allows your body full delivery, providing it with the most benefits possible.
This product is only available in the USA. We are not able to ship CBD products internationally. 
Organic Chamomile, Organic Lemon Balm / Melissa Herb (this is part of the mint family, not from lemon trees), Organic Lavender Flower, Broad Spectrum Water-Soluble Cannabidiol (CBD).
Use one tea bag per cup of boiling water. Cover and steep for 4-6 minutes. 
Cannabinoids need fat to be absorbed in the small intestine, so please make sure to enjoy your CBD Tea with, or directly after, a meal.


Love this tea!!
So glad I found this tea, only wish I could buy it in larger quantities!!
Flexible Schedule
Manage your shipment dates and frequency easily.
Renewal Notifications
We always send you an email notification 3 days before your order renews.
Easy Cancellation
No penalties ever for cancellations. You can cancel easily through your account or email us directly.